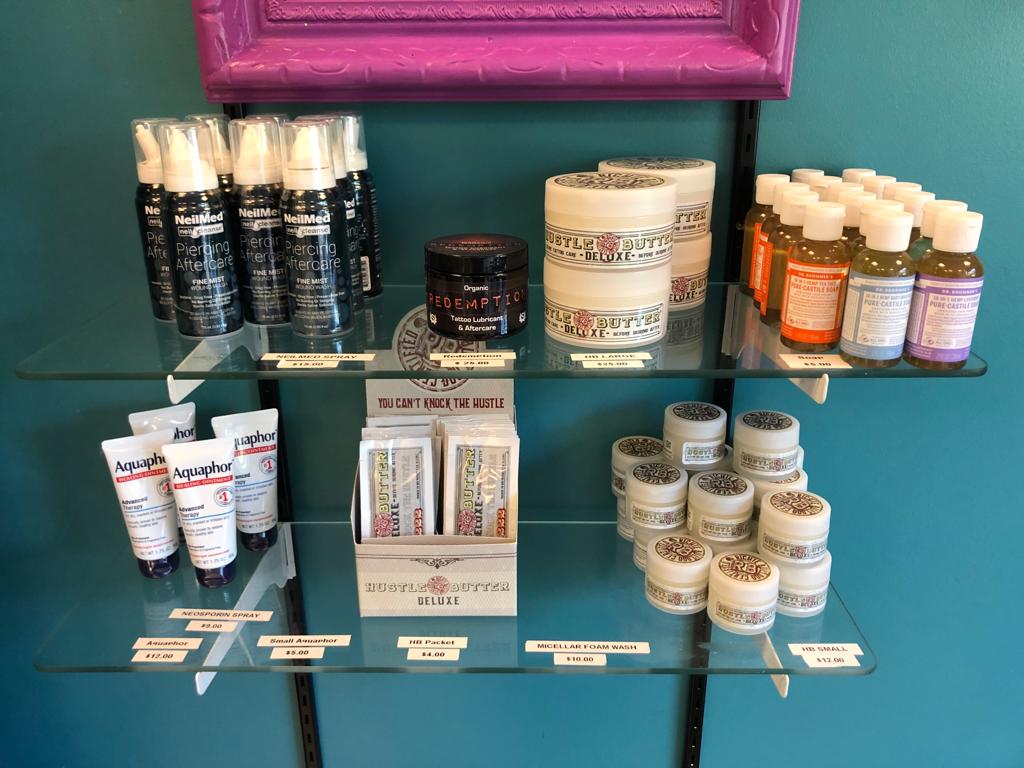 Tattoo Aftercare Instructions
Please follow the instructions your artist has given you as each artist may have different instructions to best heal their particular style of tattoo.
1. If your tattoo artist uses Saniderm wrap keep it on for 2 to 4 days (depending on what the tattoo artist has advised). If it is a large tattoo and they have asked you to return to have them change the bandage please do so within 24 hours, then leave the second bandage on for 4 days.
2. If your tattoo artist uses saran wrap keep it on for 3 to 4 hours, then remove, gently wash with warm water and Dr. Bronner's castile soap (available at Blue Dragon Tattoos), pat dry with clean paper towel (not a towel), rewrap with saran for the first night. Wash twice a day and apply a thin layer of Hustle Butter or Aquaphor (available at Blue Dragon Tattoos) for 7 to 10 days. Do not apply too much aftercare ointment as this can cause the tattoo to stay too moist and potentially cause loss of colour or infection. Do not rewrap unless you need to protect your tattoo whilst in an environment where it could potentially be exposed to unsanitary elements.
3. Stay out of sunlight and tanning booths until tattoo is healed, at least 2 weeks.
4. For 2 weeks do not soak in a tub, sauna, Jacuzzi or go swimming while your new tattoo is healing. Showers are fine.
6. Extreme sun and exposure over the years can and will fade your tattoo. Once the tattoo is completely healed this can be minimized by using a strong sunscreen, at least SPF25.